Industrial PUF Panel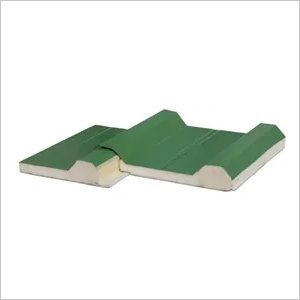 Industrial PUF Panel
Price And Quantity
, Square Meter/Square Meters
Product Description
Backed by huge industry experience and market understanding, we are engaged in offering a wide array of PUF Panel for our valued patrons. It is used in pack houses, CA chambers, cold storage, banana ripening chambers, freezer rooms etc. for roofing, wall cladding and partition purposes. Under the direction of our diligent experts, the offered panel is manufactured using quality approved raw materials. Our interested clients can buy this of from us at market leading prices
Features of PUF Panel:
Modular in character and pre-engineered for accuracy and convenient construction
Choices available with several finishes like PPGS/PPGS /PPGL / PPGS / PPGL/SS
Walls of diverse height, yet strong and easy construction
Light weight panels which are convenient to elevate and upright at any height within the plant or other place
Frameless structure and simplicity of design, supply and structure for any sort of construction
Insulated Panels, which cut-down energy
Structure pre-engineered and less components, globally accepted & meets or surpass all building code particulars
Advanced energy cut-down due to very less thermal conductivity
Elasticity in design and opting a variety of choices on fascia of colors and panels
All weather proof structure & protection free
Globally suitable material for structure insulation
Advanced energy savings because of very less thermal conductivity
Benefits of PUF Panel
Buildings pre-engineered and less substances, globally conventional and caters to or surpasses all construction code provisions
Advanced energy cut-backs because of less thermal conductivity
Elasticity in design and opting a variety of choices on front of panels and colors
All climate proof structure and maintenance free
These insulated panels offer ever-lasting value with controlled quality, accurateness & rate of construction and provides for better functionality and claim.
High load bearing capacity
Ease of installation
Long life and very low maintenance cost
Excellent thermal insulation
Energy savings
Resistance to weather and aggressive environments
Easy repair and replacement
Have Hygienic Surfaces
Acceptable for HACCP and FDA Approval
Acoustic sound insulation
Reasonable fire reaction and resistance
Eco Friendly - CFC Free insulation material
Technical Specifications
Density : 40-45Kg/ m3
Compressive Strength : 1.851 kgf/cm2
Water Absorption : 0.2%
Temperature Range : (-) 20 C to (+) 110 C depends on thickness,
Thermal Conductivity : 0.0214 W/ m-k
PSI/2KGS/cum : 28.5
Tensile Strength : 3.4 kgf/cm2
Adhesion strength : 1.81 kgf/cm2
Fire Property : Self Extinguishing fire retardent
Water Vapors permeability : 0.11 gm/Hr/Sq.m
Dimensio
Thickness * - mm 50, 60, 80, 100
Overall width * - mm 1000
Standard Sheet length * - mm 2440 (8ft), 3050 (10ft), 3660 (12ft), 4270 (14ft), 4880 (16ft)
The reduction in temperature may differ due to atmospheric condition prevalent in the region of application
Further Details:
PUF Panel for wall cladding and roofing systems, that we are providing to the customers possesses exceptional acoustic and thermal withstand. It is also developed to fulfill the all requirements related to cooling. Our product is additionally widely utilized in auditoriums, multiplexes, food processing industry, telecom shelters, commercial buildings, educational buildings, power industry, theaters, agro industry, pharma, defense living shelters, pre-made buildings and residential buildings. The acoustic and thermal insulation may be personalized in accordance with the demands of the customers. Further, the solutions that we offer are developed to satisfy every demands such as freezing, storing semi-cooked and cooked, seafood, vegetables, storing farming products, poultry and fruits. In other words, our cooling expands from the agro things to the table. Our PUF panel incorporates normal groove and tongue joint and alternative cam fasteners as well as fabricated in constant MUF producing machine.
Our PUF panel is made out from polyurethane foam (PUF), which is layered among the sheets of paint covered steel sheet that is effectively resistant to climatic violation of the tropical weather and corrosion. It minimizes heat by around 5 to 6 degrees * as well as decreases the sound of rain.